Randy Harrington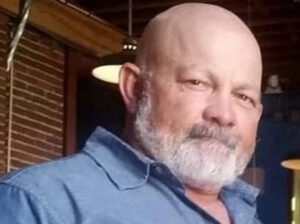 Growing up Randy was a voracious reader and his interest was piqued in the Bigfoot phenomenon as a young boy after reading Roger Patterson's book "Do Abominable Snowmen of America Really Exist?" When he became a man, he longed to find out for himself. Thus began a long arduous task of proving it to himself, then those closest to him, and now the public.
He is married with two adult daughters, two grandsons as well as a business owner and retired firefighter and now retired as a Driver/Operator. He also has fire service training that has helped him to remain calm in stressful situations within this pursuit and additionally his focus on details which was forged in fire tactics is especially helpful.
Randy's goal is to exhaust all natural explanations about these wonderful beings, and share what he finds with others. Randy said that being asked to join this group of dedicated people has been the pinnacle of all he has done in this field, and hopes to contribute to some sort of understanding of these beings, if not the outright discovery that convinces the world!
In addition to the Ozark Mountain Sasquatch YouTube channel and documentaries, you can find Randy featured in articles and interviews on many different podcast, channels and was even a part of the Falcon Project.  Most are listed in in chronological order for your convenience.
The Crypto Crew: Too Close For Comfort In Oklahoma
Feb 2006
From The Shadows, True Tales of the Paranormal
APR 10, 2007
Waiting for Bigfoot "The Columbus Dispatch" (Part 1)
Jan 17, 2012
A Trip to the Bigfoot Discovery Museum, Felton CA
Dec 20, 2012
The Town That Bigfoot Built, Honobia, OK
Aug 19, 2013
Randy Harrington Sits Down With Ed Brown
May 3, 2014
Lights Out: A discussion on using FLIR for Bigfoot research
Feb 10, 2015
Sasquatch Chronicles: Ep 225 Sasquatch Vocalizations
Nov 2, 2018
Sasquatch Chronicles: Ep 464 The Empty Tent
Dec 19, 2018
BEAST TV #56 – Randy Harrington
Jul 30, 2020
A Flash of Beauty trailer
Trailer for upcoming Bigfoot Documentary releasing early 2022.