Dan Nedrelo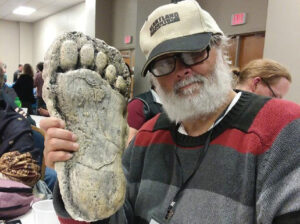 By 3rd grade Dan had already decided to be a herpetologist and from there came photography.  However his interest in Sasquatch came early with the release of two films; the "Patterson-Gimlin film" and the "Legend of Boggy Creek" and by 5th grade he already had an idea where life was taking him.  Dan's first experience was in the north woods at a church camp after he heard vocals which sounded like a loud hissing.  A sound match verified this later in his adult years.
Throughout the 1980's – 90's Dan continued his travels and photography working with different magazines and books.  His work was published in over 200 books and magazines. He also worked with a fashion model agency…Bella Donna Model Agency, Mankato Minnesota.
Dan is no stranger to public speaking and some of his speaking engagements included some television work, which in the 90's brought him to Jim Fowler of Mutual of Omaha's Wild Kingdom.  At this time Dan also worked for the Department of Natural Resources.
Dan's travels include 46 states, Hispaniola (Haiti/ Dominican Republic), Australia, Tasmania, Canada, Nicaragua and Costa Rica. He has future plans to go to Ecuador in a future trip.  In addition to photography, travel and researching Sasquatch he is interested in illustration and woodworking.
Education:
University of Wisconsin-Stevens Point, Bachelors of Science, wildlife biology major, minor museum techniques
Employment:
1978-79 National Wildlife Federation, North Carolina two field seasons
l980 Started Nedrelo Lecture Series taking wildlife life to schools and organizations with speaking engagements and demonstrations.
l981 Private Zoo .. employed as a zookeeper specializing in venomous snakes in Eldon MO
In 1982 he worked for the Department of the Army at Fort McCoy in Wisconsin as a field biologist surveying reptiles and amphibians. The same year he volunteered for the Milwaukee Museum on Robert Henderson's Caribbean Reptiles in Haiti and the Dominican Republic.
1993-94: Wisconsin Department of Natural Resources working on commercial take of the turtles of the Mississippi River and the Massasauga rattlesnake.  Dan also worked with private environmental assessment companies including highway dept (WisDOT) doing field surveys for wildlife on the critical status species list, mainly reptiles and amphibians but also birds.
l994 The Nature Conservancy field studies at Fort McCoy.
l996 toured Australia and Tasmania for 40 days and 40 nights.
2000 joined the BFRO for 4 yrs.
2008 had first Sasquatch observation with silhouette and reflecting eyes in Georgia.
2010 continued Sasquatch experiences in Wisconsin.
2019 Joined Ozarks Mountain Sasquatch team.